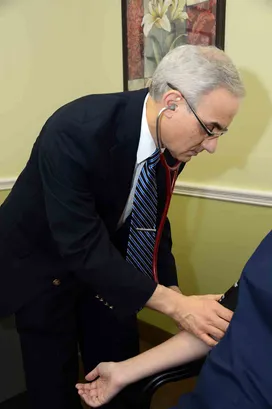 Preventive Screenings in Fort Myers
Preventive screenings can identify potential medical problems early, when they are more easily treatable.
Why Preventive Screenings Matter
Many illnesses and diseases often develop with little to no symptoms. Preventive screenings can identify issues, so your internal medicine doctor internist (a doctor of internal medicine) can treat advise you about the best treatment option. Preventive screenings are an excellent way to be proactive about staying healthy, instead of being reactive reacting when you become ill.
What to Expect During a Preventive Screening
Your internal medicine doctor will perform a complete physical examination including taking your blood pressure, pulse, and listening to your heart and lungs. respirations. Your weight and height will may also be recorded.
Tests Which May Be Ordered for a Preventive Screening
To aid in diagnosis of underlying conditions, your internal medicine doctor internist may order:
Blood tests – to check for high cholesterol and elevated blood sugar levels.
Imaging studies – to check for arthritis, degenerative bone diseases, or osteoporosis.
Vascular testing – to check for atherosclerosis and arteriosclerosis caused by fatty buildup.
An ultrasound – to check the tissues of your heart and other certain organs for damage or abnormalities.
An echocardiogram – to check the structures of your heart. for heart damage
Benefits of Preventive Screenings
When your doctor identifies medical conditions, appropriate treatment can be determined to help you stay healthy. Your treatment plan may include:
Medications to control blood pressure, cholesterol, and other conditions
Vaccinations to protect you against the flu, pneumonia, shingles, COVID, and more
Dietary modifications to provide the right amount of nutrients and vitamins help your weight and medical conditions.
Exercises to keep you fit, active, and strong
Stress reduction techniques to help calm your mind and body
Screening testing for early diagnosis of breast, colon, or prostate cancer, as well as tests to check for bone loss.
How Preventive Screenings Protect Your Health
Preventive screenings can help to decrease the likelihood of protect you from developing acute or chronic diseases, including:
Stroke
Diabetes
Obesity
Heart disease
Chronic obstructive pulmonary disease
Want To Know More?
Be proactive! To find out more about the importance of preventive screenings and what to expect, call Dr. Daniel Bendetowicz in Fort Myers, FL. You can reach him in the office by calling (239) 985-1050, so call today.